NZ Business Council for Sustainable Development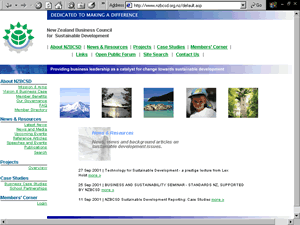 The New Zealand Business Council for Sustainable Development's website provides resources and information to the public and tools to facilitate dialogue amongst members.

The extensive Members' Corner is designed to encourage and facilitate the exchange of ideas amongst members. Within this section members can take part in members-only discussions, record information about their company's involvement in NZBCSD initiatives, update their personal and business details, and RSVP to meeting announcements. The member list acts as a central addressbook, keeping executives from the various member companies in touch.

Project teams, consisting of NZBCSD staff, members, and specialist consultants, each have their own restricted area of the site, with facilities to share documents, discuss issues, and contact one another.

NZBCSD staff have complete control over website content, using an Admin section. This section contains additional features, such as a merge-emailer, which allow staff to use the site as their master addressbook for members and interested parties.
Client:

NZBCSD

Date Developed:

2001

Role:

developer + content editor

Partners:

CustomerLed - graphic designer + project manager

Repeat Work:

Since the launch of this site, beweb has continued to be involved in NZBCSD's online initiatives. We have completed several project websites and provided the design and technology for the regular email newsletter "Sustain".

beweb won this contract based on previous work on the NZBCSD school partnerships guide.

Categories: